I couldn't have found a better match to my criteria if I had ordered it.
My "must have list"
40 ft pusher
high roof
air brakes
My "would be nice to have list"
low miles
highway gears/enough horsepower to run them
no rust
air suspension
I have been watching all of the lists that I could find, and was actually going to stop in Tennessee next week to look at some buses that came close.
I had kind of ruled out Bluebird because I didn't know they offered a high roof.
I stopped in Moriarty, NM to get fuel and I always get back on the interstate by going back the way I came, but today I went the other way through town.
Spotted some buses at the local Chevy dealer and one was a large pusher. I turned around and went back to inquire(I NEVER turnaround(ask my wife)) When I asked
the price, I thought at first I had heard wrong. To make a long story shorter, this is what I bought, for a little less money than asking.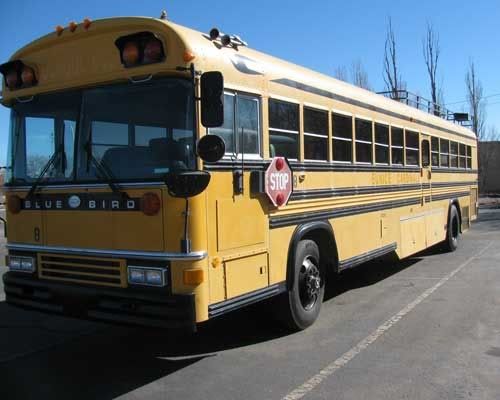 91 Bluebird AAER 40 foot 171,150 miles
250HP Cat
77 inch interior headroom
brand new Bostrom air ride seat
factory air
air brakes
pass through luggage compartments
120 gal fuel capacity
I'm a photographer and the roof rack will really come in handy.
NO rust (was in service about as far South East in New Mexico as you can get)
It was an activity bus, so it was never used for student pickup. It passed NM DOT inspection a year ago and has hardly been used since then because they got a new bus.
Now I just have to get it home, hopefully my son and I can get it done in a weekend by driving it, it not I'll try to get a load this direction and haul it home.
Now I have a couple of questions.
The factory air is using 2 automotive type compressors, I assume one for each side. They are powered by the bus engine. Any ideas how much horse power they require? I would like to
run them from a 3 cyl Kubota diesel that used to run a 7000 watt generator.
The build sheet says
"Insulated complete including bows, and insulated drivers area" Does this actually mean anything, other than they put some insulation behind stuff when they built it?
I'm excited about the whole project, although I probably won't get to do too much but plan until I retire in Oct.