So I was at a local auction a few weeks ago and couldn't resist this bus that the local school district was getting rid of. I guess it was the "old school" (if you will) look of the front that did it for me.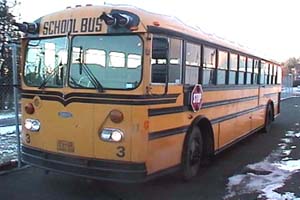 I've removed most of the seats, though I left a few in front. My version of a bus "conversion" will be mostly low-brow, at least initially. No a/c or kitchen even until I cover some basics. After all I want be camping in it at Burning Man in 2005, and judging by my current free time, its gonna take a while. I found a wood stove that will hopefully go in soon. And about 100' of commercial rope lights. Now researching inverters... For more, visit my Bus Blog! (see the link below).
Updates & more photos to come...