Shurflo 2088-422-xxx Classic (or the 2088-453 Premium Plus if you need more GPM). In the Class C is a 2088-403-444 Classic Series (manufactured 10/95... 403's are no longer made I think... this is our newest pump we are running. We have Shurflo 2088-422 pumps on the food cart that are much, much older) 2.8 GPM at 45 PSI... 10.6a@12vDC... I can run the sink in the kitchen (home style faucet) while someone takes a shower (low flow 2.5 GPM max shower head). No problem. The Classic is the most dependable of all the Shurflo pumps. They last for years without a hiccup. You can get them for under $75 most anywhere. A 2088 Classic will go in the bus (I will have an automatic dishwasher which needs 45PSI... we will only run off our fresh storage tanks due to the high filtration we put the incoming water thru). No matter what pump you get, either run a sediment filter on all your water BEFORE it enters a storage tank or the pump (even city water gets sand/dirt in it) or get an "inline strainer" for your pump. We run a sediment filter (the kind with a permanent screen used in well pumps) plus a 0.5 micron filter (filters out almost everything and knocks the water pressure down to a dribble). These pumps are made to run dry but do not like dirt or sand in them. The fancier pumps seem to burn up after a couple of years. That includes the "Whisper King" which is supposed to be so quiet. Attach your pump to a secure spot (like a floor) with a sound/vibration mat under it. Something like a rubber mat or a piece of that dense foam that goes under sleeping bags (yes, I know they come with little rubber feet... that may be enough but sometimes it's not). I have heard a lot of folks complain about the noise the pumps make but I suspect it has a lot to do with how the pump is mounted and the sound transference properties of what it is mounted on in the first place.
You will need to know what the GPM of your shower heads and kitchen sink faucets are. Too low a pressure in the Kitchen sink and the sprayer won't spray if you are using one of those pull-out main spray head faucets like this...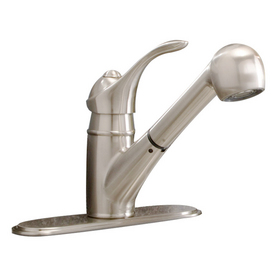 my problem... but I hate my faucet and will go with an old-fashioned cheaper little side sprayer for the sink like this...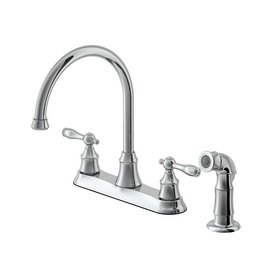 We are installing a water softener in the bus because the hard water is playing havoc with the shower and faucet sprayers... cheaper to replace that side sprayer than the one in the faucet.
BTW, I have heard nothing but bad about the Extreme Smart Sensor Series. If you go with them, research the recent stuff to see if they have fixed them (the micro processor or circuit boards were burning up). Awfully pricey for something that craps out in less than a year.