A crash today in metro Chicago
killed the driver of a Jeep Wrangler when a Blue Bird school bus rammed it in the side and subsequently overturned. All kids on the bus survived with only minor injuries.
Back in November 2011, the same type of collision
ended the life of a teenage passenger
in a Ford Escort that pulled out in front of a 1999 Winnebago. The driver of the Winnie survived (likewise the driver of the Escort).
The bus stood up fairly well to rolling over. The motor home...not so well: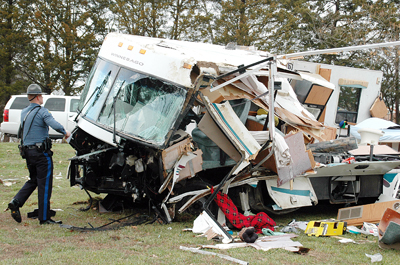 I've thought that Winnebago products aren't as bad as other mass-market RVs. They do use a lot more steel around the cab (hence the area around the windshield remained relatively intact). Still ain't a school bus, though. No substitute for the stem-to-stern steel of the bus.