I am about to start connecting wires - just want to get another opinion to make sure my research is paying off and I am not about to destroy something
Components :
Magnum PT-100 Charge Controller
(2) 6v Lifeline Batteries GPL-L16T
Dimensions 1200n/12 Pure Sine Inverter
(4) Trina Solar Panels XL 290w
Midnight MNDC250 Disconnect Box (this is where I need the most help)
Firstly, I am planning on running my 4 panels in series. Will a 15A / 150vdc breaker be fine?
Panel specs : Model Number TSM-290PA14
STC Rating 290.0
PTC Rating 262.8
Open Circuit Voltage (V) 37.1
Short Circuit Current (A) 8.31
Power % ± 0/3
Secondly, grounding to the chassis has been a but confusing and someone who installs systems told me to just not ground anything since the engine batteries and solar batteries should not be grounded to the same metal. Some clarification here would be great.
Also, if I end up not grounding to chassis, within the MDNC250 disconnect box, as it recommends the option of mounting a 63A / .5A dual GFPDC breaker -
if I install without this breaker would my thinking be correct in wiring the PV+ to a breaker (15a?) , then into the charge controller, then Battery + from charge controller to another breaker (what size breaker here? same as PV+ or is this based on battery specs?) then this breaker to the +post within the MNDC box the post is connected to the battery and the rest of the current leads to the 250a breaker that is for the inverter.
That last paragraph might be confusing to read without the wiring diagram I am basing my design off of -here is a screen shot of the wiring diagram in the MNDC installation guide :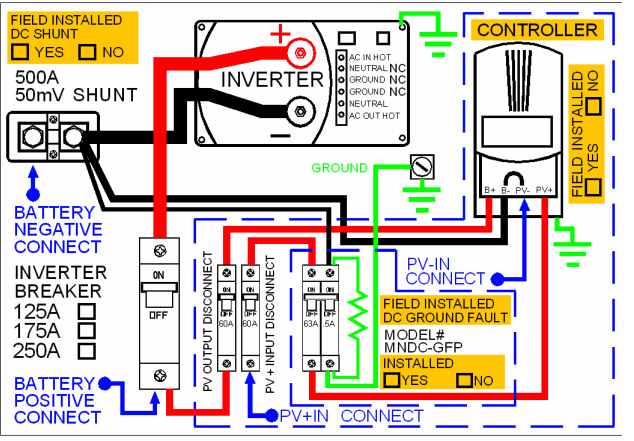 Any clarification / recommendations would be appreciated